" -There Are Two Types Of Dragons On Our Mother Earth,
Some Have All The Luck Some Just Live In Dirt.
There Are Several Types Of The Colour Of Their Skin
But What's Crucial Is If They Lose Or Win!"

Sontalak Eradicated!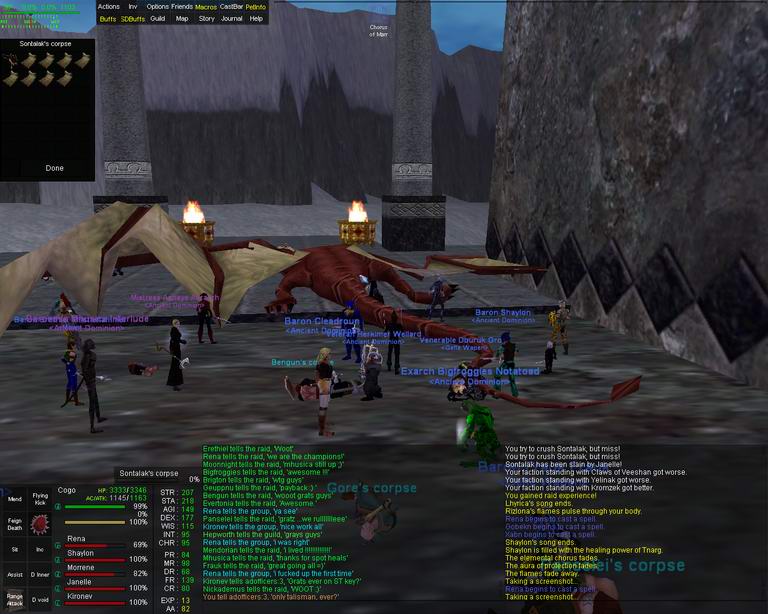 " -You Belong To Us, To The Dominion Horde,
Which Will Never Lose And Succumb To The Force,
That Are Set By Others With Deceitfulness,
And You Will Stumble Against US With Thankfulness!

Klandicar Destroyed!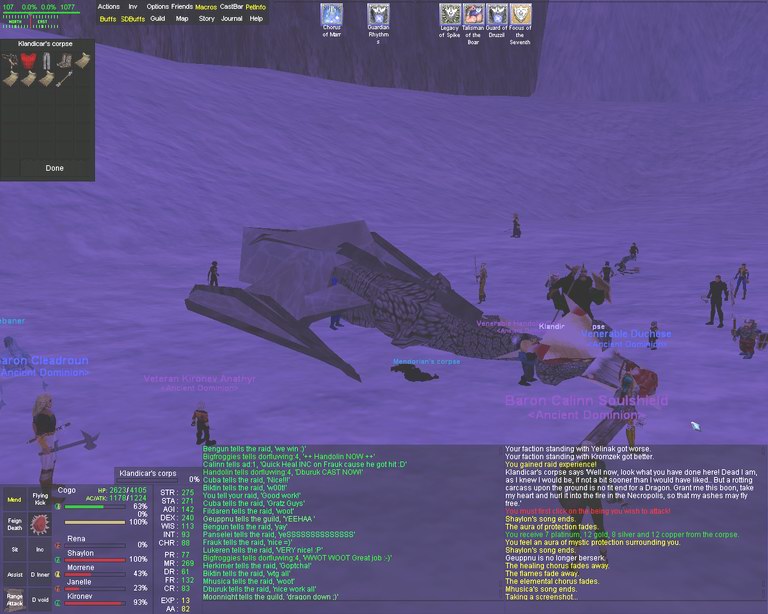 Congratulations Kironev on Worked Dragonhide Breastplate...




...and Mendorian on Peerless Dragonhorn Boots and Peerless Dragonleg Breeches!




Also congratulations Erethiel who will now be a monkdrood with his Exquisite Velium Brawlstick!





The Dominion is now two steps closer to enter the ancient dragon prison of Sleeper's Tomb!

Congratulations Evertonia and Cogo on The Key to Sleeper's Tomb


---

" -No One Knows If We Are To Survive This Storm
But I Tell You Giants, You Are Just Worms.
Just A Little Error On A Hopeless Crust,
You Are Sleazy Beeings And Your Limbs Will Rust!"

King Tormax was beat down to where he belongs!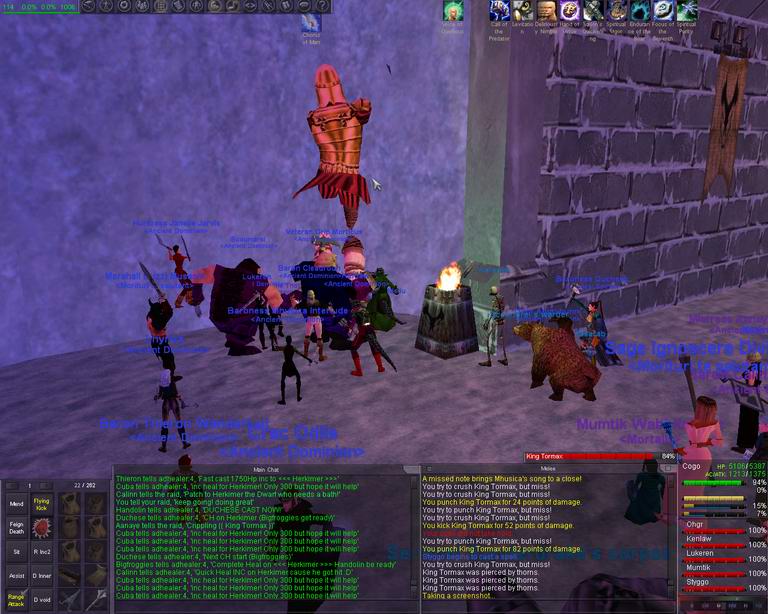 Congratulations Lhyrica on White Dragon Helm......




......Janelle and Morrene on The Horn of Hsagra.....




....and Hepworth on Ring of Lightning




Big grats to Bigfroggies on ST key!


After slaughtering giants all day, Morrene explained the power of the halflings.


---

The Dominion did a hedgy event, and killed ourselves a hedgy boss.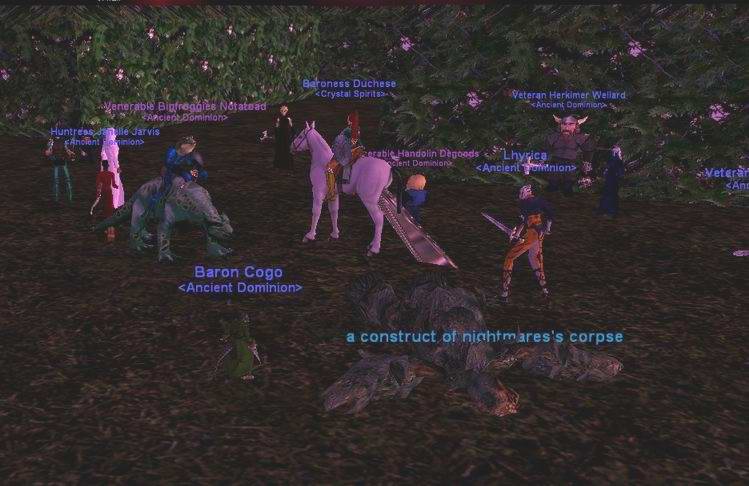 Congratulations Lukeren on Elbow Spiked Arm Plates and Black Bastardsword




The nature and the mystics of the hedge made Krionev dream away about other things than battles.



---

We have spent some time in Plane of Storms for our Bastion of Thunder keys. Always a pleasure meeting the nippleringed giants!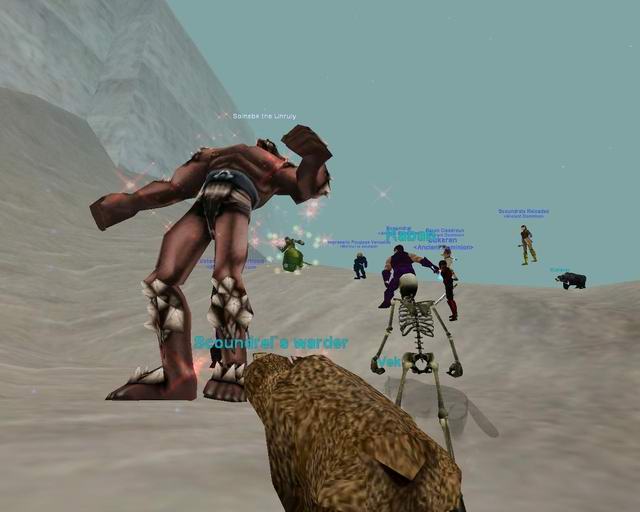 Plane of Storms teaches us all kinds of things. Haggard, for one, discovered the secret of bards.



---

After spending some time in Bastion of Thunder, with the 'Waist Down Fist Clan'...




....Geuppnu decided for himself what to think about his newfound zone.



---

The dominion faced its greatest foe yet. The Avatar of War!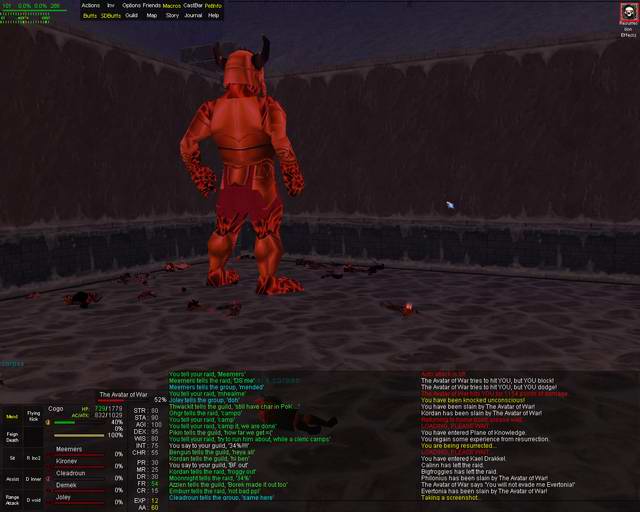 Being an invite at the time, Philonius gave his life to prove himself!



34% my dear Avatar of War, 34% on our first ever encounter.
Make no misstake, the next time we'll meet......
---

This month's inspiring name!





This update was brought to you by the follow advice!